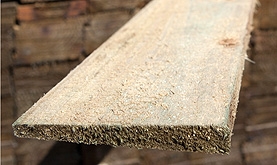 Featheredge Boards
Featheredge boards are sometimes called Featherboard and can be used to create what Closeboard fences, which are a 'solid style' fence.
Closeboard fences built from feather edge fence boards are typically stronger than waney lap or overlap fences due to their construction and the solidity of the timber used. This makes them a great choice when considering maintenance.
Our Feather edge fence boards are made from durable natural timber, which accounts for their strength and they enable the construction of taller fences for added privacy.
One of the benefits of this type of fencing is that it allows for very quick, simple and easy replacement of individual boards in the future.
Display 45 Products per page